Oak Class
Class Teacher: Mrs Pierce
Nursery Nurse (Mon-Thur): Miss Riley
Nursery Nurse (Fri): Mrs Khan
PPA cover (Weds am): Miss Reilly
Summer Term 2
Welcome back Reception class! We hope you have enjoyed the holiday!
Our topic this half term is 'Dungeons and Dragons'. Our learning will be linked to lots of different books about princesses, knights, dragons and castles.
Please take a look at our topic web and the more detailed information below to find out more about the experiences and learning we have planned.
Important dates:
Tuesday 13th June - Summer trip to Thornton Hall Farm
Saturday 1st July - Gala Parade
Tuesday 13th June - Reception visit to Thornton Hall Farm
We all had a fantastic time and the children were superstars!
Some photographs of our recent learning in Reception class:
Phonics/Reading
In phonics we have now covered ALL the phonemes (sounds) that children need to know in Reception class. This half term we will be practising everything we have covered so far. We will continue to learn to read and spell tricky words and practise reading and writing words and sentences. There will be more emphasis on applying what we know independently.
Your child will read with an adult at least once every fortnight. Their reading books will be changed once a week or on request by placing their book and yellow reading record in the box in the cloakroom.

Literacy
To link with our topic, our main focus books this half term will include Cinderella, Sleeping Beauty, George and the Dragon and QUEST.
We will continue to focus on talking about story events, characters and settings. We will be having a go at our own story maps and rewriting stories. We might even have a go at writing our own stories.
In our written work this half term our main focus will be writing sentences. We will also be practising writing words containing digraphs and trigraphs and spelling tricky words correctly in our work. We will also be writing recounts, labels, recipes, invitations and lists.
The children will take part in a guided reading session each week with Miss Reilly to improve their comprehension skills. We will be encouarging the children to make predictions and inferences and to offer their opinions on characters in the stories we read.
Mathematics
This half term we will continue to solve addition and subtraction problems in different contexts.
The children will be revisiting lots of the concepts we have covered this year. For example, measuring their heads to make crowns and using shapes to make castles..
We will be counting in 2's, 5's and 10's.
Using our bean plants we will be measuring, comparing and finding the difference
PE
Our PE day is Tuesday. Can you please make sure your child has their full, NAMED, indoor PE kit on their peg. Please name all items of PE kit. This half term we will be practising our athletics skills to prepare for sports day.
Outdoors
Children will spend time in our outdoor classroom everyday. Please make sure that your child has appropriate clothes for outdoor play - warm clothes for the winter, waterproof coats for the rain and a sunhat (and sun cream) in the summer.
Homework
At home, please try and hear your child read every day, even if it just a couple of pages. Alternatively you could practice their tricky words, phonics flashcards or cursive writing. Little and often is the best approach, rather than trying to get your child to read a whole book when they are not in the mood! Please record what you have done in their yellow reading record.
The Nativity:
Wow! The children were amazing! Well done everybody!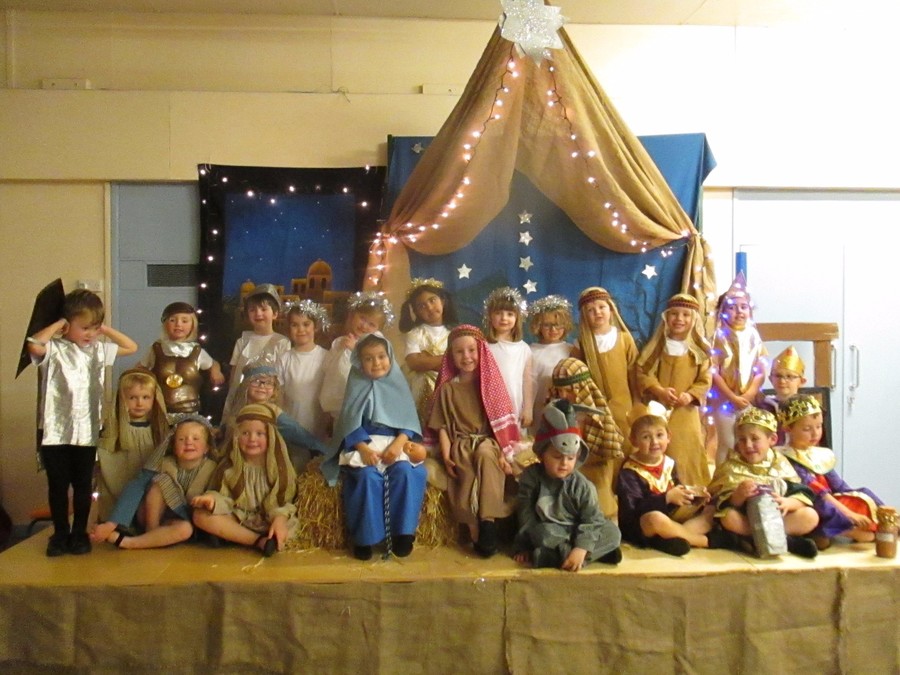 Phonics Information Afternoon:
Thank you to everybody who attended our phonics information afternoon on the 24th November. We hope you found it useful and that you enjoyed spending some time in class with your child. The powerpoint presentation can be opened here. If you didn't attend and you are unsure about any aspect of phonics please see a member of the Reception team.
Our Autumn visit to St Ives, Bingley:
Tesco Visit - 6th October, 2016
Reception class visited the Tesco Store in Queensbury as part of our work on healthy eating. The children hunted for fruit and vegetables of all the colours of the rainbow, went on a 'behind the scenes' tour of the store, found and purchased food from a shopping list (using the self service tills themselves) and tasted a variety of fruits.
Our leader in store commented on how well behaved and polite our children were. They were a credit to themselves and the school. Well done Reception Class!
If you have any questions or concerns please speak to a member of staff when you drop off or collect your child and we will do our very best to help.
Thank you!
The Reception Team